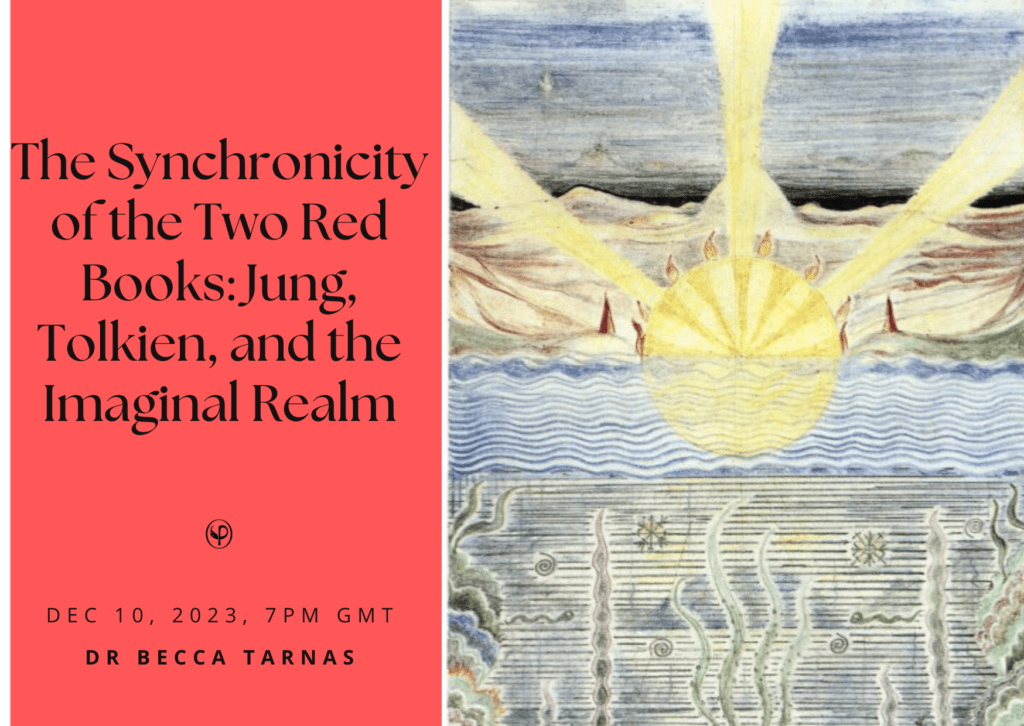 10 December 2023
The Synchronicity of the Two Red Books: Jung, Tolkien, and the Imaginal Realm ~ A Presentation by Dr Becca Tarnas 
| 7 PM GMT |
Beginning in the years leading up to the Great War, both C. G. Jung and J. R. R. Tolkien independently began to undergo profound imaginal experiences. They had each stepped across a threshold and entered into another world, the realm of imagination, the world of fantasy. For Tolkien, this imaginal journey revealed to him the world of Middle-earth, whose stories and myths eventually led to the writing of The Lord of the Rings, a book he named within its own imaginal history The Red Book of Westmarch. There are many synchronistic parallels between Jung's and Tolkien's Red Books: the style and content of their works of art, the narrative descriptions and scenes in their texts, the nature of their visions and dreams, and an underlying similarity in world view that emerged from their experiences. This presentation points to the possibility that Tolkien and Jung are preliminary guides on a journey to the depths of an ensouled cosmos in which imagination saturates the very foundations of reality.
Becca Tarnas, PhD, is Assistant Professor in the Philosophy, Cosmology, and Consciousness program at the California Institute of Integral Studies. Her doctoral dissertation was titled The Back of Beyond: The Red Books of C.G. Jung and J.R.R. Tolkien, and her research interests include depth psychology, archetypal studies, literature, philosophy, and the ecological imagination. Becca is an editor of Archai: The Journal of Archetypal Cosmology and author of the book Journey to the Imaginal Realm: A Reader's Guide to J.R.R. Tolkien's The Lord of the Rings. She is currently researching and writing a biography of Stanislav Grof, the co-founder of transpersonal psychology. 
This public webinar will be free for all who have donated $50 or more since 2023. To register, send an email to info@philemonfoundation.org. For others, webinar tickets are $30 — click here.
Ticket purchases do not confer donor status. For copyright reasons, no recordings are made.