Dream Interpretation Ancient and Modern:
Notes From the Seminar Given in 1936-1940
Edited by Maria Meyer-Grass, Lorenz Jung and John Peck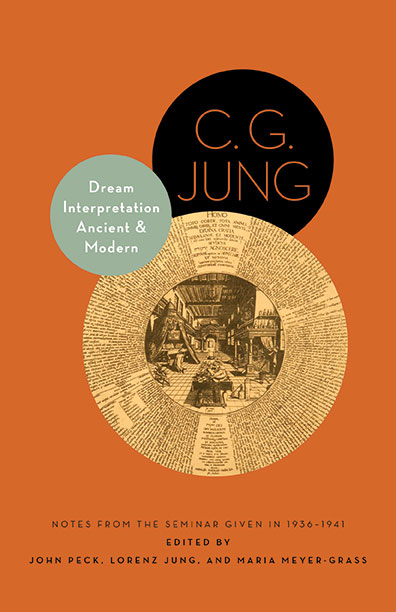 For four years, C. G. Jung gave a four-part seminar series in Zurich on children's dreams and the historical literature on dream interpretation. This book, a companion volume to CHILDREN'S DREAMS: NOTES FROM THE SEMINAR GIVEN IN 1936-1940, completes the two-volume publication of this landmark seminar, presenting the sessions devoted specifically to dream interpretation and its history,
The seminar opens a window on Jungian dream interpretation in practice with Jung discussing classical dream commentators such as Artemidoros and Synesius of Cyrene and examining in depth a long dream series from the Renaissance physician Girolamo Cardano. An important introduction by John Peck situates these discussions in the perspectives of both the humanities, in particular the dramatic imagination, and the human sciences.
Presented for the first time in English translation, this book reveals Jung as an impassioned teacher in dialogue with his students, developing and refining the discipline of analytical psychology.
PURCHASE THIS BOOK
As an Amazon Associate the Philemon Foundation earns from qualifying purchases.
RESOURCES

Princeton University Press, Princeton/Oxford
Hardcover: $35.00/ £24.95
ISBN: 978069115954
320 pages/ 6 x 9/ 2 tables
Lorenz Jung was a grandson of C. G. Jung. He was a Jungian analyst in private practice. Maria Meyer-Grass is a Jungian analyst in private practice. Ernst Falzeder is a historian of psychoanalysis and editor of The Complete Correspondence of Sigmund Freud and Karl Abraham 1907–1925. (direct links to Ernst's and Tony's bios on Philemon Scholars webpage)
ENDORSEMENTS
"This beautifully translated volume foregrounds the mature Jung and demonstrates how dreams, over time, will always illuminate the intentions of our souls and expose the attitudes that limit us. As John Peck notes, Jung's standpoint draws upon dramatic as well as medical perspectives to bring out the individuating purposiveness at the heart of dreaming."—John Beebe, author of Integrity in Depth
"This important seminar affords us the rare privilege of experiencing Jung as a palpably salty master teacher. Already highly regarded for his collaboration on translating Jung's Red Book, John Peck supplies a tour de force introduction that shows how Jung's reading of the unfolding action in dreams underwrites our senses of emergence, destiny, fate, and freedom. This book is a must for anyone interested in dream work and the legacy of Jungian psychology."—Stanton Marlan, president of the Pittsburgh Society of Jungian Analysts
"This is a very important book that adds a critical dimension to the Jungian literature. It provides a look into how Jung formulated his thinking in a group setting, and how he tried to put forward his conceptualizations. Readers will encounter Jung's darker side, but they will also become acquainted with his creative genius for interpreting dreams, his wide scholarship, and his penetrating intuition."—Brian Feldman, Jungian psychoanalyst
REVIEW
"Full of symbols, analogies, and speculation, this entertaining, scholarly book will be accessible to general readers interested in psychology, anthropology, and the occult."—Library Journal